Kevin Addington, Board of Trustees, President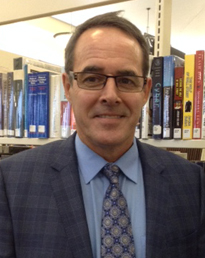 Kevin Addington is a lifelong resident of Elizabethtown and a graduate of Elizabethtown High School and the University of Kentucky with a bachelors in agricultural economics.
His business involves commercial warehousing, automotive service, banking, and transportation.
He and his wife Lisa have 3 children. Shane 22, Lily 19, and Ava 15.
He is involved with the Hardin County Library Board and Hardin Memorial Hospital Foundation.
His hobbies include historic building and automotive restoration along with family activities.
His family are members of First Presbyterian Church in Elizabethtown.
Dr. Will Flanagan, Vice President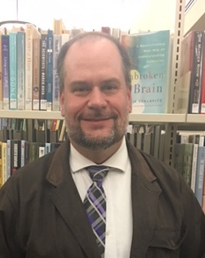 Dr. Will Flanagan was born in Paducah and after several years of moving, settled in Campbellsville, where he graduated from Taylor County High. While there he achieved the rank of Eagle Scout.
He then attended Georgetown College and after graduation married his lovely wife Amy and moved to Auburn, Alabama to attend Auburn University College of Veterinary Medicine. He attained the degree of Doctor of Veterinary Medicine.
After a short stint in Bowling Green, Dr. Flanagan bought his first practice in Elizabethtown and has continued to live, grow, and work in the community he loves.
Dr. Flanagan has been married to his lovely wife Amy for 29 years. They have a daughter, Grace 24, who is currently in her 2nd year at Kentucky College of Medicine and a son, Jackson, who is currently in his 3rd year at the US Naval Academy.
Dr. Flanagan is currently serving his second round as a trustee at the Hardin County Public Library and is so honored and proud to be a part of the library family.
Jerisia Lamons, Board of Trustees Member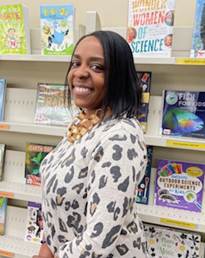 Jerisia Lamons has a 20-career span in civic and community service, social work, workforce development, and higher education. She is currently the Director of Cultural Diversity at Elizabethtown Community and Technical College. Jerisia holds a Bachelor of Science in Social Work from Western Kentucky University (2001) and is currently pursuing her Masters of Arts in Adult and Higher Education from Morehead University.
In 2020 Jerisia received the NAACP Herlea Reynold President Award for outstanding work towards racial and economic equity. In 2018 Jerisia was selected as the Young Professionals 40 under 40. In 2020 she was honored by Shattered Glass for women who have demonstrated bravery by serving their local community.
Her civic work collaboration resulted in the development of several programs:
Assisted the KY Career Center in achieving state certification as a full service center
Heels Academy with the Central Kentucky Community Foundation
The Beacons of Light Award
RISE: A Community Foundation
Equity through Education Scholarship at ECTC
She currently serves on many boards including:
Secretary of the Central Kentucky United Way Board of Directors
2nd vice-president of the Hardin County NAACP branch
2nd Vice-President of the Woman's Club of Elizabethtown
Way to Work Advisory Board
She has been married to a truly generous, loving, and devoted husband, Allen Lamons for 11 years. Together they have three kids, Laila (13), Alivia (10), and Anna (10). She is also the proud mother of Benjamin Buttons, her dog. She loves to garden, cook, and make her kids laugh in her free time.
Suzanne Perla, Treasurer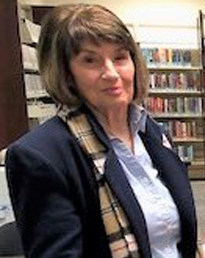 Suzanne Perla is native of Pittsburgh, Pennsylvania and a resident of Vine Grove, Kentucky since 1980. She graduated from the University of Louisville in 1988 with a Bachelor of Arts in Communications. In 1997 she received her Masters of Business Administration from Bellarmine University. She recently retired from Hardin County Government as Executive Assistant to Judge/Executive Harry Berry.
Suzanne has three adult children: Jennifer, Lee, and Jessica, all graduates of the Hardin County School System. Jennifer resides in Michigan with her husband John Mellott and their three children. Lee resides in Washington, DC with his wife, Lori Hellkamp. Jessica resides in Philadelphia with her husband, Frank McBride and their two children.
Suzanne strongly believes life-long learning is a fundamental value essential for our community to continue to develop and grow. She welcomes the opportunity to serve the Citizens of Hardin County on the Library Board.
Sue Story, Secretary
Sue Story is a native of Hardin County who graduated from Howevalley High School. She earned a BS Degree from Campbellsville University and a MA and Rank I degrees from Western Kentucky University. She taught 27 and one half years for the Hardin County School System and also taught part-time 6 yrs. for ECTC.
She is an experienced, certified library trustee having already served 2 four-year terms.
Among her many accomplishments are:
Distinguished Alumni Award from Hardin County Schools
Outstanding Alumni from Howevalley High School
Delta Kappa Gamma International (women educator's organization), served as chair of many committees
Kentucky Alpha Gamma State (women educator's organization) past president and current member of Kentucky Alpha Gamma State Hall of Fame
Elizabethtown/Hardin/Larue Retired Teachers Association, past president and current chair of the Scholarship Committee
Who's Who of Professional and Business Women
Achievement in Education Award from the Radcliff Optimist Club
When she is not volunteering or working with her service organizations, she loves reading cozy mysteries and collecting cookbooks.